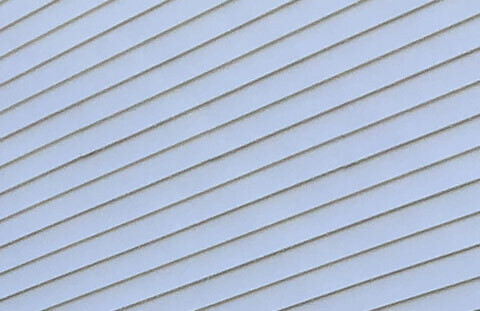 EXTERIOR BUILDING / HOUSE WASHING
JL Services will safely clean your home or building's exterior, creating a fresh and inviting look.
Repeated cleaning of a home or building's exterior is crucial to maintaining the overall look of the structure and can improve a person's general health. Mold and mildew can be the cause of a number of health issues including breathing difficulties, coughing or wheezing.
JL Services Group is your answer to keeping away the nasty buildup that occurs when proper cleaning has been neglected. Our experts will tailor a specific methodology based on your home or building's exterior condition and offer an affordable solution. Contact JL Services Group for a free estimate.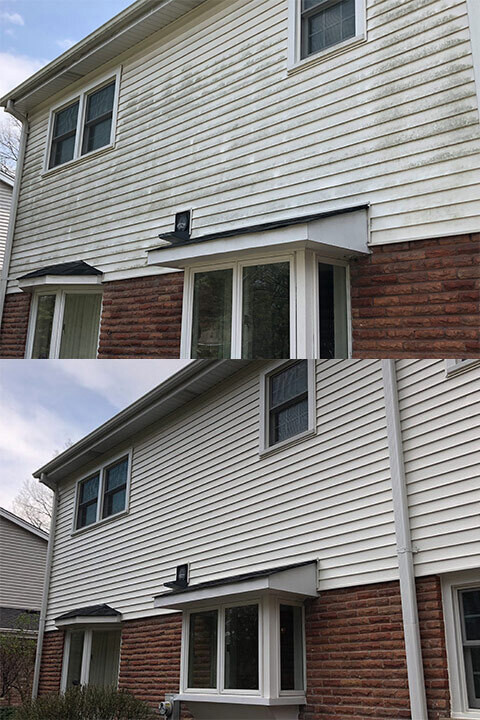 Why should I clean my home/building?
You want to maintain the exterior of your home for multiple reasons. One main reason is aesthetics. Nothing is worse than pulling into your driveway and realizing you own the dirtiest property on the block. The other main reason is health. The typical buildup you find on the exterior of a house or building is a combination of algae, mildew, mold, and lichen. These can be irritants to sinuses and can contribute to major health issues. If not removed, the buildup will only get worse, as it is airborne and will slowly migrate around all sides if not attended to. The buildup you see on the outside of a house or building can be easily removed and safely eliminated for years.
What is the best methodology?
The cleaning process we offer is much less intrusive than power washing and, in fact, supported by any manufacturer of building materials so as not to void any warranties. Using high pressure will not only cause damages to the face of the material, but it's the "behind the scenes", or in this situation, behind the material that you can't see, that will cause damage. The high pressure will only remove the top layer of the buildup, making things look good for a couple months, but its root system is still attached to the material being cleaned, so it will come back. It's just a matter of time!
Our process safely kills the buildup at its root system so you get long lasting results, not just a couple of months. Using high pressure will strip any protective coating and/or force water where it shouldn't be. Getting water behind materials can cause serious damage and even cause mold if it doesn't dry completely.
Our cleaning methods are all done at low pressure; high pressure is not needed when cleaning the side of a house or building. If higher pressure is needed, we have methods to increase the pressure while keeping within the suggested guidelines to avoid causing damage. While servicing any type of house or building washing, we always keep the surrounding areas wet to avoid destruction to ground level areas during spraying. Our solutions are not harmful but we don't take it for granted, so the settings are always pre-wet, and constantly rinsed while cleaning.
Once the final rinse has been done (solution and buildup has been removed), we use a neutralizing and fortifying mixture that neutralizes any remaining active ingredients used in the cleaning process. This will reintroduce good bacteria to the plant's leaves and its root system, basically fertilizing your plants while neutralizing our solutions.
How often should I clean my home/building?
After we complete washing a home or building it will look great, but it must be repeated every year or two or the buildup will come back and could lead to damage. Preventative maintenance is a proven practice to prolong the life expectancy of anything. Ask how we can get you set up on an automated maintenance program to not only keep your investment looking its best, but also save the hassle of trying to find someone every time you need a cleaning done.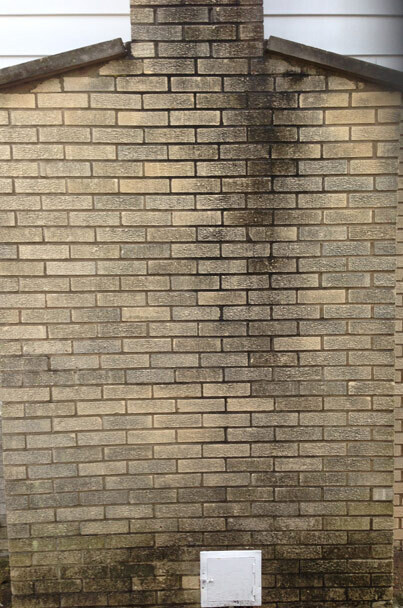 BEFORE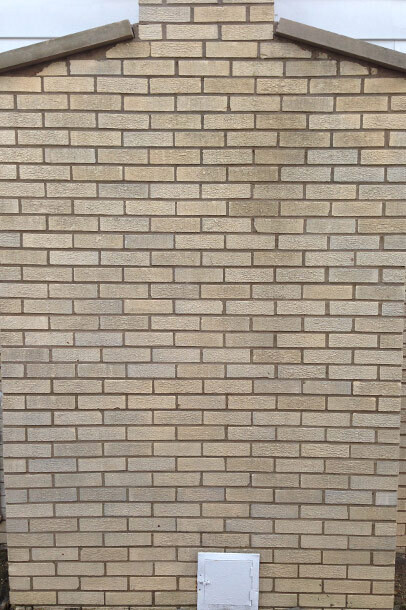 AFTER
Rust Removal
Rust is not only unpleasant to look at, but can be very difficult to remove. Trust the professionals at JL Services Group to eliminate rust before it gets out of hand. Many people can have health-related problems due to rust that has not been cleaned from surfaces. Call us today for free estimate!
Why should I remove rust? – Rust is all around us. Rust, or iron oxide, occurs when water comes in contact with bare steel or alloy that contains iron. Rust develops when the bare steel or alloy is exposed to moisture and oxygen for a prolonged period of time. The oxygen combines with the bare metal or alloy at an atomic level, forming rust or iron oxide. It is important to keep your eye on this type of buildup. Not only is it very unsightly, but it can cause permanent damage. Catching the rust at an early stage in its buildup can mean the difference between complete extraction or faded rust color damage to a finish or completely failed finish that requires a restoration service.
What is the methodology? – Removing rust is not as easy as it seems. First identifying what the rust has stained is of the utmost importance. Sure, you can go to a hardware store and attempt to use an "over-the-counter" product, but you could run the serious risk of putting yourself in the hospital. Using an acid based solution is very common when trying to extract rust. It is very important to understand the safety precautions when doing a service such as this. Respirators, eye protection, full bodied suit (if applicable), and gloves are a must! The gases that are given off during a chemical reaction while extracting iron oxide are deadly if inhaled, may cause blindness, burn and / or be very irritating to your skin even if a mist of the acid touches it. There are also specific acids for different surfaces. We strongly recommend JL Services – we have years of experience and the know-how to correctly and safely remove or attempt to remove (depending how long the buildup has been there and its concentration) that unpleasant looking orange-colored growth.
BEFORE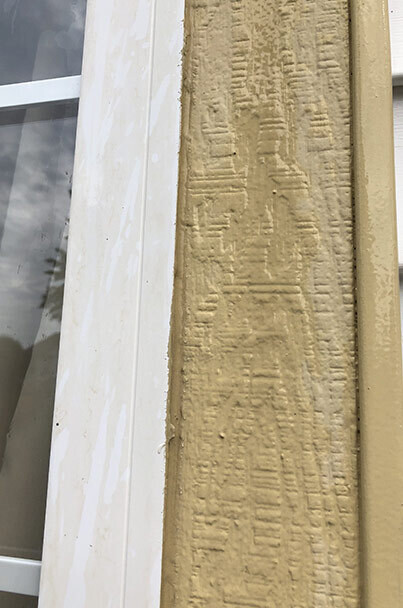 AFTER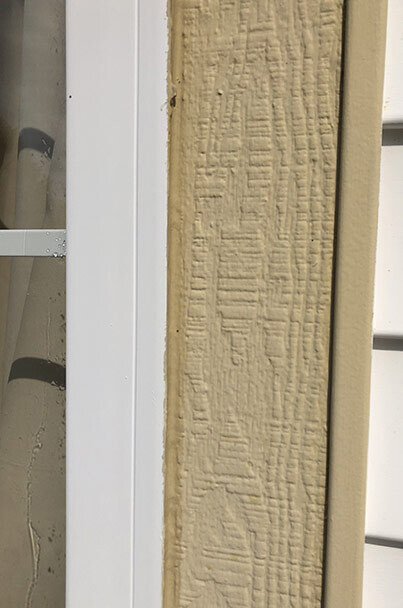 Benefits – Getting to rust at an early stage is critical. If not attended to immediately, it can and will stain permanently, causing a more expensive repair or restoration. Rust is caused when painted metal is worn away by constant moisture and eventually turns into an orange-colored stain. Rust is common on siding and in fountains and should be taken care of as soon as it's noticeable. Something so simple to fix can turn into an absolute nightmare if not attended to in a proactive manner.
How often should I remove rust – Immediately – the earlier, the better. Rust is very damaging if not managed right away. It is highly recommended to have a proactive approach to removing it when you notice any on your property.