COMMERCIAL SNOW REMOVAL / ICE MANAGEMENT
Don't let winter get in your way! Call JL Services for commercial snow removal services.
The western suburbs of Chicago have been known to have extreme snow and ice storms. Keeping up with these harsh storms can be overwhelming, exhausting, and most of all, very dangerous. Some storms can drop 12 inches of snow or more in less than 24 hours, making it very difficult getting to and from your destination safely; tack on freezing rain and high winds, and you've now got a blizzard. Going outside in these conditions is very dangerous to begin with, attempting to maintain a safe parking lot, walkway, emergency exit, loading dock, etc. with the wrong equipment can leave you stranded and helpless.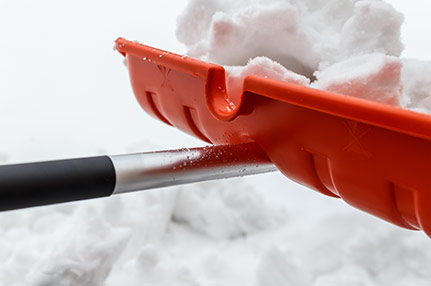 Don't attempt to keep up with these conditions if you've never dealt with them. JL Services has the professional equipment, back up parts (should anything break in the middle of a storm), and the shop to pull service equipment in to work on. We never go into a storm without preparing for the worst. Our motto when it comes to snow and ice management is, expect the worst, hope for the best. This allows us to be over prepared, maintaining your property to the best standards possible.
Extreme cold, heavy snowfalls, and constant stopping can put wear and tear on your plowing service vehicles. We here at JL Services maintain a professionally maintained fleet of commercial vehicles that stand the test to Chicagoland winters time after time. The combination of heavy equipment which includes commercial vehicles, plows, salt spreaders, snowblowers, and shovels allows us to push the limits to keep your property open and safe for your guest or employees, and keep you making money.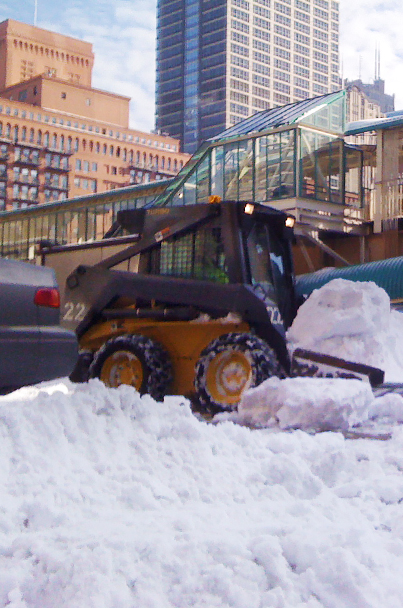 A well maintained fleet means JL Services is ready to tackle the most extreme storms with ease and continue for hours, if not days, without shutting off the truck, therefore allowing JL Services to offer dependable professional service when it's needed the most. When winter starts in the Chicagoland area, we begin monitoring weather 24 hours a day. This allows us to deploy the proper equipment at the most opportune time.
Removing or relocating snow on your property is one thing, but keeping the melted snow from freezing is another. Ice storms or frozen snow can be very slippery. Melting "black ice" or other frozen areas can be tricky, but with the right melting agents, it can be easy. With the combination of our salt spreaders and various types or salt, your icy conditions will be controlled. We offer various kinds of melting agents, starting with rock salt. This is usually used on parking lots, emergency lanes, loading dock areas, etc., where higher priced melting agents are not commonly used. If needed, different melting agents can be used in these areas, but the most economical way is rock salt. Should temperatures get EXTREMELY cold, we can mix liquid calcium in with the rock salt to melt at an even lower temperature. When melting agents are needed for sidewalks, we turn to a better rock blend, something that melts at lower temperatures, dissolves completely with the snow / ice so it's not tracked inside, and, it's more environmentally friendly. These blends incorporate numerous ingredients such as magnesium, potassium, calcium, sodium, etc. with the combination of some color. The colored dye in the salt helps monitor where the salt is being applied as well as how much is being applied. It is wasteful to put too much down, but also a hazard if not enough is used.
At JL Services we have customizable billing plans to suit your needs. Our services can be billed once a month on a set monthly amount (if under certain cap), or we can bill on a "per occurrence" rate once a month. With bigger commercial accounts, it's easier to budget a monthly spend target rather than per occurrence. Smaller locations prefer the per occurrence rate because they only have to pay for service when provided. This style of billing can add up quickly during peak season, so we encourage using monthly billing rather than per occurrence. JL Services determines a flat monthly rate by taking average accumulations and salt occurrences, then dividing into the contract term. Because these are averages, there is a cap limit and if reached, the customer will be billed on a per occurrence rate. At the end of each month, we send out invoices for the previously serviced month.
Winter can be one of most challenging seasons of the year in which to manage a property. At JL Services we pride ourselves on timely and professional service you can rely on each and every time snow starts falling or an ice storm blows through. We have years of experience and knowledge regarding the best and most economical way to care for your property. Call us today for a free, no obligation quote. We look forward to hearing from you very soon!