A regularly maintained deck made from either wood or composite materials will last for years.
Decks made from either natural wood or synthetic materials need to be professionally cleaned to extend their lifespan and allow the natural beauty to show through. You've spent a good deal of money on your deck, so why let it become a dirty and hazardous eyesore? Keep in mind that a dirty deck can also lead to health issues, especially people who have an allergy to mold spores. The professionals at JL Services Group are expertly trained to clean and maintain your deck and keep it looking like new for years to come. Call us today for a free consultation!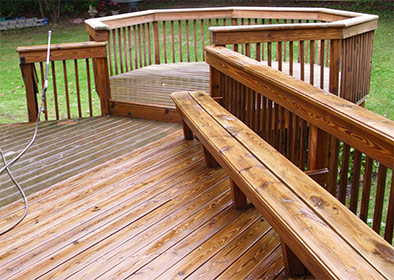 Why should I clean my deck?
Decks are a great gathering area for a family barbecue, birthday, or to just relax and enjoy a sunset. Keeping natural wood or synthetic material clean is very important. Natural wood is very porous and will soak up a lot of environmental buildup that will grow into the wood. Algae, mildew, mold, lichen and moss are the most common environmental buildups seen on wooden decks. If not attended to, the algae can become very slippery – a major concern to you and your family. It also prematurely breaks down the wood and any finishes on it (algae retains moisture) and is a leading cause for finishes to break down and wood to rot out.
Synthetic decking is also susceptible to environmental buildup; however, it will not break down like natural wood. Synthetic decking is a composite wood-looking material that has been engineered to withstand the harshest elements and hold up to constant moisture, making it the prime material of choice for deck construction. Synthetic decking is a lot easier to clean and doesn't require refinishing as frequently as natural wood, but still requires maintenance.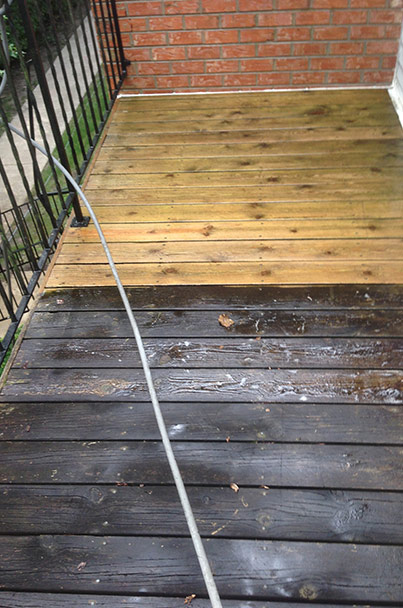 What is the best methodology?
Natural wood and synthetic decking have similar cleaning processes. Because natural wood is porous, it is always recommended to pre-soak the wood using water instead of solutions. You don't want solutions soaking into the wood because they will break down the fibers, weakening it and causing premature failure. A combination of solutions, light agitation, when needed, and very low pressure is the best way to clean both natural wood and synthetic decking material. This prevents scarring and preserves the integrity, while offering an effective way to clean.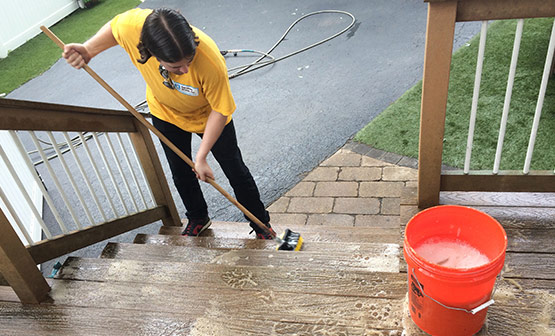 How often should I clean my deck?
A fresh, clean deck is a lot more attractive, very safe, and helps to sustain the life of the deck. When a deck is routinely cleaned free of dirt, grime, algae, mildew and other contaminants, it preserves its finish and its life expectancy. It is always recommended to clean anything on the outside of your house once a year, especially if it's porous. Even if it doesn't look dirty, there is still airborne dust and dirt that clings to it.