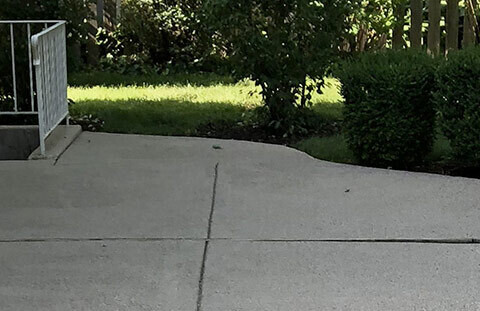 CONCRETE CLEANING / SEALING SERVICES
Power washing weathered concrete can make it look brand new.
Proper cleaning and sealing of concrete surfaces is critical to maintaining a fresh, long-lasting product. Keeping your concrete clean may also reduce health issues such as mold allergies or aggravate asthma. The professionals at JL Services Group offer a customized approach based on the individual type and condition of your concrete. After an initial free consultation, we will determine the best method to use for your specific needs. Contact us today for further information.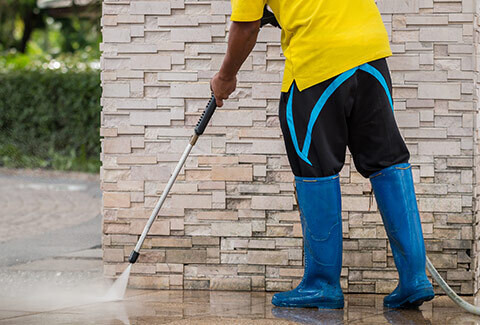 Why should I clean and seal my concrete?
Concrete can be just as appealing as pavers. Concrete isn't cheap to install but maintaining it correctly can be very economical. Concrete comes in different shapes, sizes, colors and finishes. Knowing how to correctly clean each is very important as serious damage can occur if done incorrectly.
You may think, how hard can it be to power wash my patio? You are correct, it's not rocket science, but knowing how to get it to look almost "like new" again does take some knowledge and experience. Identifying the buildup you're trying to extract from the pores of the concrete or even on top is very important to correctly and efficiently clean while preserving the concrete. Knowing your active ingredients in all solutions is another very important factor while trying to achieve the highest levels of cleanliness. We need to ensure that the ingredients are not harmful to residents, painted finishes, pets or the environment. This is where our expertise comes in – we know the optimum solutions to achieve the best results while still protecting your property.
BEFORE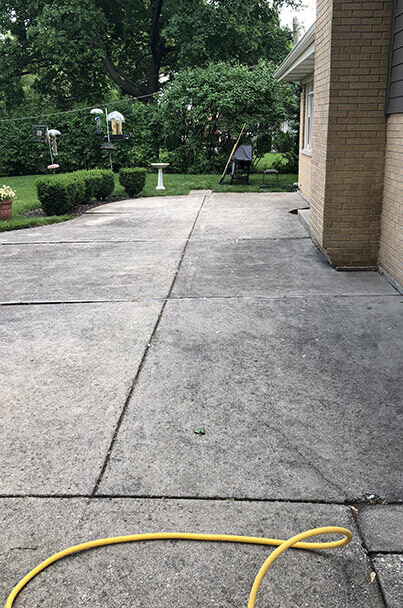 AFTER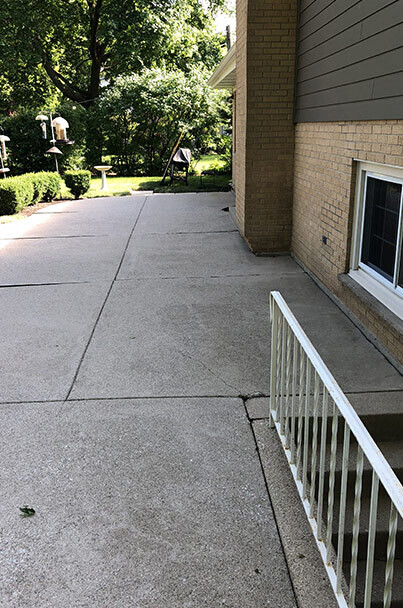 What is the best methodology?
There are various ways to clean concrete – the two main methods we use to clean buildup are soft washing and pressure washing. Soft washing requires a special solution and low pressure. The solutions do the cleaning while a pressure washer is used to rinse and flush all of the buildup. Oftentimes buildup is extreme, resulting in the need to pressure wash. We apply a solution specifically geared toward what we're cleaning and start at a lower pressure, gradually increasing the strength of the spray until finding the "sweet spot" so a clean surface is achieved without damage. When the cleaning is completed and thoroughly dry, JL Services can then apply a professional grade sealer which can feature a non-slip additive in high gloss or matte finish.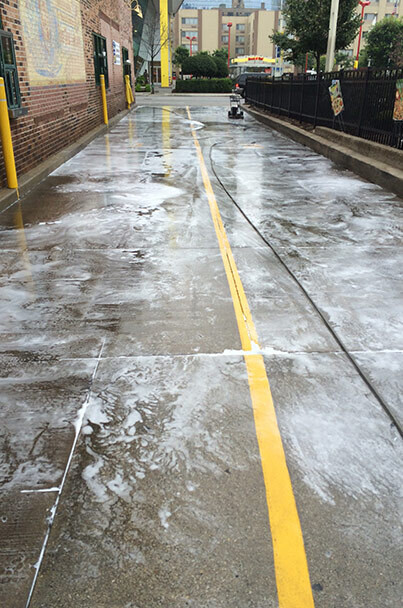 How often should I clean my concrete?
Cleaning your concrete on a routine basis is important to protect from premature wear, staining, and damages. Environmental buildup can be extremely detrimental to concrete as the material is porous. If mold, mildew or algae gets into the pores of the concrete, it can be extremely difficult to get out. Our solutions penetrate concrete to clean deeply so extremely high pressure is not needed. The other added benefit is the long-lasting results. Typically, when concrete is cleaned using only water, buildup may come back much sooner. Concrete pores must be cleaned deeply in order to extract all dirt and debris.