Posted on March 9th, 2020
Preparing for a Safe Spring Outdoor Cleaning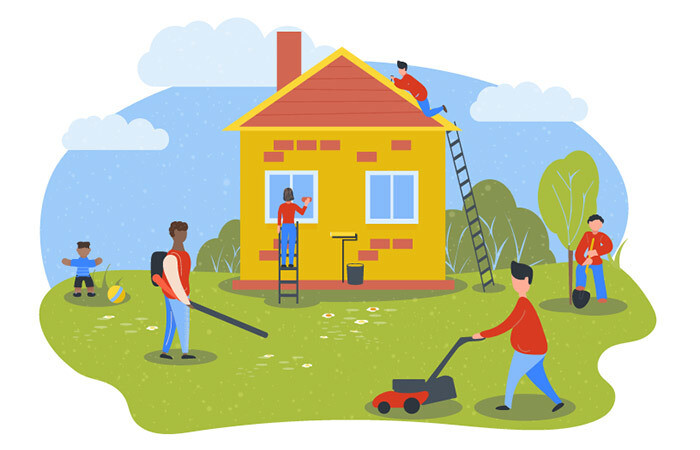 With winter coming to an end, and spring right around the corner, it's the perfect time to start thinking about your spring cleaning projects. Spring calls for green grass, beautiful flowers, and clean environments. Whether it be clearing the garage of winter debris, freshening up your landscaping, or attempting to clean the gutters or siding on your house, it is important to stay safe while giving your home a new shine. Here are some tips that will help make your spring clean safer and more enjoyable.
Inspect, clean, and prepare any yard tools that you may need.

Clear any snow or debris off your roof and check your gutters for proper drainage to avoid flooding.
Turn your sprinklers back on, but be aware of cold spring nights that may cause frozen pipes.
Prune dead trees and plantings and cautiously trim back any branches that have grown too close to electrical wiring. Eliminate overgrown plants from walkways and reposition any dislodged stepping stones or garden decorations.

Clean your chimney to help reduce the risk of fire or carbon monoxide buildup. This same principle goes for your roof gutters – not only is the buildup of debris a fire hazard, but if prone to rainfall, dirty gutters are a flooding hazard as well.
Watch out for pests. The Center for Disease Control (CDC), warns that thousands of people are stung by bees and other insects each year. These range from minor irritations to serious allergic reactions. If you get bitten or stung, it is important to stay calm and treat the area immediately. If the site gets red and swollen or if you have trouble breathing, seek medical attention.
It's important to clean in the spring not only to prepare for the rest of the year, but to kill off any environmental build-up before it starts growing where it shouldn't. The lack of cleaning can cause damages that could have been easily avoided by doing a routine outdoor cleanup.
Cleaning up your yard this spring can be an enjoyable experience for the whole family, and the start of preparing your outdoor environment for enjoyment throughout the summer!