PAVER CLEANING / RESTORATION
Don't compromise your investment – let JL Services clean and maintain your pavers.
Regular cleaning of your pavers will help to beautify, restore the natural brilliance and maintain the overall look of your property and its value. Regular maintenance can keep possible health issues under control. Mold and mildew have been linked to allergies, and if you suffer from asthma may cause breathing complications.
JL Services Group has many years of experience in paver cleaning and the removal of natural sediment and dirt in addition to spills, oil and scuff marks from human traffic. We customize our methodology based on the specific type and condition of the pavers we are servicing. Often our low pressure service is effective and provides a gentler solution to more delicate varieties. Contact us today for a free consultation and estimate.
Why should I clean my pavers?
If your property features pavers, it is one of the keys to your outdoor aesthetics. However, they require regular cleaning and upkeep to retain their original color and shine. Over time, the pavers can start shifting and the sand and sealer wear out. You may even start to find weeds and moss growing in the joint lines.
What is the best methodology?
The chosen methodology is usually based on the age and condition of the pavers to be services. New or well-maintained pavers may simply require a low-pressure process to clean the surface and joint lines. An older or poorly maintained area with moss or weeds in the joints may require deeper cleaning using a strong solution combined with a high-pressure cleaning tip. New sand and top sealing the pavers may be advised to prevent shifting and loss of pigment.
What are the benefits?
Having a clean paver driveway, patio, pool deck or walkway is probably one of the prime areas of interest for your home. It speaks to your home's aesthetic and property value and helps protect your investment.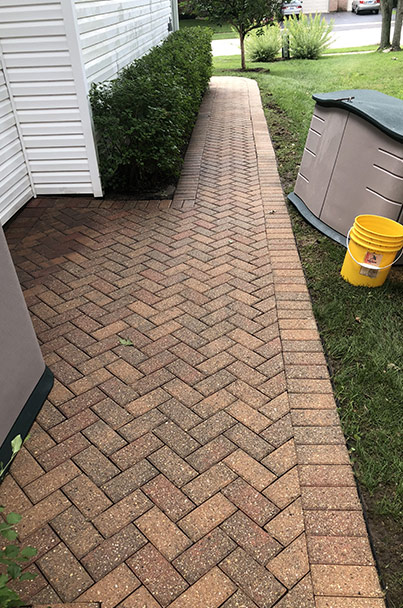 How can pavers be restored?
If you are considering paver restoration, there are a couple of considerations. Are there any repairs that need to be done prior to cleaning? Are there broken or damaged bricks that need replacement? Is there stripper that is failing and should be removed? These are the items that you should note if you are considering a well-executed paver restoration.
Before any necessary repairs can start, all nearby irrigation must be turned off until sealer has dried completely. At this time any repairs will need to be performed before any cleaning. After all needed repairs are complete, sealer can be removed. Should stripping need to be executed, special concentrated solutions are applied to the brick face, breaking down any sealer. This can be a very messy process, however, we use EXTRA caution and by pre-wetting the surrounding areas, using tarps as needed, and special attachments and equipment to help contain any splashing.
While the sealer is being removed, if need be, the pavers will be simultaneously cleaned, and all debris removed from the joint lines. If stripping is not needed, a more basic cleaning and basic solution can be applied. After all debris is thoroughly rinsed, an herbicide treatment is vigorously applied to all joint lines to eliminate any current or future growing weeds. The treatment will set up for a while, then the sand will be installed.
After areas have dried appropriately, kiln dried silica sand will be dry swept into joint lines of pavers then rinsed to pack using a technique called "wet sanding". This allows us to get the sand to the base of the pavers while keeping the sand 1/8" below the paver surface. When the sand and paver areas have dried completely, the sealer will then be applied using a spraying and roll back technique for uniformity. The sealer does two things, it's a joint stabilizer, meaning it locks the sand in place like a rock, seals, and protects your pavers from salt, UV rays, and any normal wear-and-tear. Two coats are applied to ensure the pavers are correctly sealed and protected.
We offer three sealer finishes – Natural, Satin, and High Gloss look sealers, all of which have a traction additive applied on last coat for better footing in wet conditions. The pavers must dry for 24 hours before any traffic can enter the area or irrigation is restored.