Get a better view – JL Services offers comprehensive and complete window cleaning services.
Cleaning windows and solar panels is often overlooked, but can be very beneficial not only from an attractive standpoint but an economical one as well. Solar panels and windows must be cleaned regularly to achieve maximum efficiency. When JL Services cleans your windows, we don't just stop at the glass — we clean the sills, frames, tracks, screens, storm windows and french panes — both interior and exterior! Remember that health-related issues can be caused by dirt and grime buildup especially individuals who suffer from allergies or asthma. Count on JL Services Group to provide the most professional and cost-effective window and solar panel cleaning. Call today for a free quote!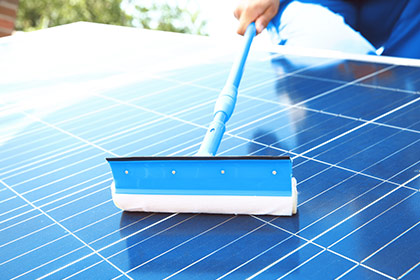 What is the best methodology?
The cleaning methods for both windows and solar panels are identical. We use state-of-the-art technology to offer the cleanest windows and solar panels, while being the most cost efficient to clean. We filter the most pure form of water possible to offer a spot-free clean each and every time. The twice filtered, RODI (reverse osmosis de-ionized) water, is brought on-site in our mobile cleaning trailers, then we use a water fed pole to efficiently and effectively clean 4 stories high from the ground. We first rinse the window free of any loose buildup, then we scrub the windows with a very soft bristle brush to break way static dirt, dust, bird droppings, etc. that may be on the window, then we do final rinse. When the window(s) are done being cleaned they will be wet, but the luxury of the RODI water is it dries spot free because all contaminants, solids, and chemicals are pulled out when filtered at our shop. This process is the same when cleaning solar panels, but because solar panels are so large and are very hot due to absorbing the sun's rays, we have to work in small sections so the water doesn't dry while cleaning.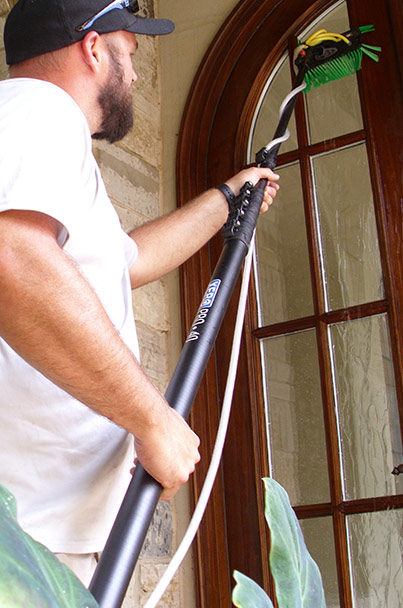 What are the benefits?
Besides looking great, clean windows and solar panels are another area of your home or business that need to stay clean in order to be completely efficient and work the way they are meant to. Windows and solar panels will not operate properly if they are left dirty and full of debris. They need to be maintained ona regular basis to function well and keep energy costs low.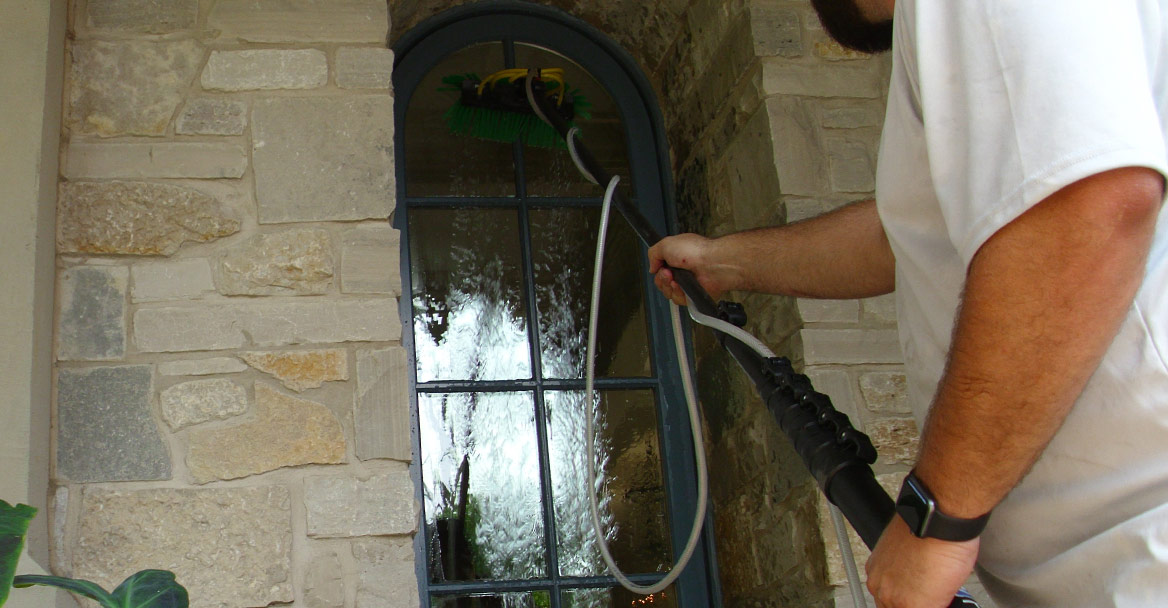 How often should I clean my windows or solar panels?
It's recommended to clean your windows and solar panels 3 times a year: Spring, Summer, and Fall. Regular clenaings help keep dirt from building up on your windows so you can see through them, and maximizes solar panel efficiency.