Don't let water damage from dirty gutters seep into your home – Call JL Services today!
Gutter cleaning is an absolute must and needs to be done on a regular basis. Clean gutters not only look better on the outside, but function much more efficiently — keeping your roof, walls, windows, door, or patio from becoming damaged. JL Services Group can provide professional gutter cleaning when the need arises. Call today and ask about our maintenance packages!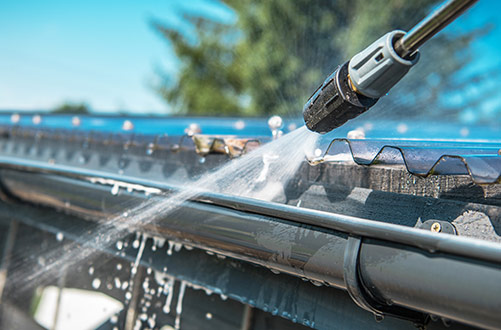 Why should I clean my gutters?
Cleaning the inside of your gutters is just as important as cleaning the outside of them. Over several months, the gutters will start to collect debris, in-turn, clogging them. This is not something you want. For starters, the gutters are made to re-route water coming off your roof, and move the water away from your house and foundation so it doesn't cause leaks and hidden damage. Also, an overflowing gutter can be annoying should the overflow be by a main door or entrance. Once the gutters become clogged, typically the debris that's in them, overspills with the water. This leads to staining the gutter faces because they are made out of aluminum. Aluminum gutters are prone to staining because over years of wear, the protective coating wears off and soaks up anything that touches it, which in this case would be the debris from the gutters. We offer a service that removes the stains and oxidation, the failed finish. In conclusion, having your gutters cleaned on a routine basis is very important for many reasons.
What is the best methodology?
Each house is different. Some properties may have a very steep roof, while others have a very flat roof. We inspect every house prior to doing any gutter cleaning to offer the most effective cleaning methods, while keeping safety a priority. Safety is a very strict rule here. If we will be walking on your roof while servicing the gutters, we will have a safety harness on at all times, if we will be using a ladder while servicing the gutters, all ladders will be level and secure from moving prior to walking up them. Once safely securing the ladders and / or safety harness, we will then proceed with the gutter cleaning. We either blow out the gutters with a hand blower if there's not too much debris, or in situations where there is a lot of debris, we will scoop it out into buckets and dispose of it accordingly. During any gutter cleaning, we will make sure all downspouts are cleared out too. Should the gutter faces need cleaning following the cleaning of the inside of the gutters, we will then mix up a special solution, agitate the gutter face with a soft brush, then rinse them free including the surrounding areas as splashing will occur while cleaning.
What are the benefits?
Clean gutters can mean no more flooded basements or other water damage, no overspilling and causing damage to the gutter face and / or areas below gutters. Regular gutter maintenance helps prevent ice dams during winter when the freeze / thaw process occurs.
How often should I clean my gutters?
We recommend cleaning your gutters out three times a year, spring, summer, and fall. This will ensure that they stay clean, and no other damage is caused by water. Ask us how we can set you up on a maintenance program to make maintaining your gutter system a breeze.
What is the difference between gutter cleaning and gutter brightening?
Think of these two services as an inside / outside cleaning. Gutter cleaning is inside the gutters where the leaves collect while gutter brightening is outside (gutter face) where oxidation commonly occurs. When it comes to gutter cleaning, a lot of home owners think "my gutters are clogged, time to hire someone to remove the leaves and debris". Did you know that we offer an additional service that freshens up your gutter faces? In fact, a lot of home owners think they need to re-paint their gutter faces which is not true, and ends up being more costly than our gutter brightening service. Have you ever wondered what those black lines are or how to remove that charcoal colored buildup on the gutter faces? Our gutter brightening service removes this oxidation accumulation, making your gutters appear almost new again. We like to compare gutter brightening to tire shine on a car – it's the finishing touch to making them look great!. Our process in removing the oxidation is a very carefully executed service. We mix our special solution, apply it to the gutter face by means of brush, agitate lightly, then rinse at low pressure. We do not power wash the gutter faces as it will cause damage to the finish and will not provide good results. Take a look at the picture below! The results are memorizing!
How do I know when gutter brightening service is needed?
This question can be easily answered by a quick experiment. If you were to wipe your finger across the face of a downspout, usually located at the corner of house, and get a chalky white finish that comes off, it's time to hire us to remove this. This oxidation can be easily removed with a gutter brightening technique. We use a special solution to remove this oxidation so your gutter faces look new again. You can get the same results with brightening than a much more expensive gutter painting.